VIDEO WALL SAMPLE REEL
Motion and Video Shoot Designs/Animation
PRUDENTIAL ONE LOBBY
Video Wall Installation Concepts, Motion, and Shot Video Playlist
This project was all concept on my end. I didn't do any production other than pre-viz. I was asked to come up with several ideas that visually captivated people walking by and sitters in the lobby of Prudential One in Chicago. There was real-time graffiti, stop-motion growing flowers, wall reveal, floating doors that led to cool video panoramics of places we shot, 3D art, and local Chicago flair. This was mainly just an ambient experience but vast. 
SAMSUNG VISITORS LOBBY
Video Wall Content and Playful Playlist
Samsung had a new layout screen they put together in their lobby and asked Pixelfire if they could design some videos that played off the design of the wall. 
Pixelfire tapped me to come up with some concepts and I gave them cats in boxes that moved around on a conveyor belt, waterfall hands with water that would trickle off the geometry, and vector rock climbers that scaled the wall. I actually pitched so many other ideas too, but due to budget and weather constraints (specifically regarding the safety of shooting actual climbers) a lot of the content was scrapped and we had to pivot to alternate versions that were a bit easier to create.
MICROSOFT CYBER DEFENSE OPERATIONS CENTER
Video Wall Installation, Narrative Live-Action, Motion Video
I was asked to step in as Creative Director and lead a little crew on a journey into Cyber Defense. I worked with a writer to create an 8-minute video as a first-person narrative with Azure CTO Mark Russinovich and Julia White discussing how the Microsoft Cyber Defense Operations Center (CDOC) works. The room was a special room (seen below) on campus that had a smoked-out glass wall and the video was to be projected onto it but it never got that far. 
The idea of the video was to have any group on tour come into the room and see the work and also the big defense team that worked real-time on the cyber technology in the adjacent room behind the smoked glass. Like a war room with a theater (probably a sales idea).
Well, the special smoked wall execution never happened and instead pivoted into a multi-panel video wall which changed my creative visual execution of the concept. In order to develop the creative from this pivot, I met with Microsoft strategy teams and learned how they ran scenarios and got to examine how cyber defense data and cyber-attacks happen all across the world. 
This was a complex topic that really needed to be condensed and maybe made into several different executions. I cannot take credit for the final delivery version of the video but I did tap fellow AD Ryan Griffin to help me concept some of the visuals which I presented and sold to the executives in charge. We beat out a few other groups that were vying for the work so that was a big win for me. I did end up dipping into production on the editing, motion, and VFX compositing work until I had to leave the project.
My favorite part of this project was getting to step behind the camera to direct Mark and Julia and work on location to capture some B-Roll and meet some really cool, very intelligent people.
Art direction shared with Ryan Griffin. This work was never used but I wanted to include it as it was the intended art direction I sold. Over the course of the project, things pivoted to a more cinematic and literal look instead of the beautifully graphic-designed work Ryan and I came up with. We saw this narrative with cut scenes that were motion graphic intense and revealed highly technical points.

BROCADE LOBBY VIDEO WALL
Services and Information Lobby Video Wall Content
This work was created while I was Creative Director at Synect Media. Brocade needed a creative way to show a timeline of events for its visitor lobby. I worked with a brand manager and internal Brocade support to deliver unique cinemagraph style pieces to formulate a video wall sequence that celebrated their technological achievements. I was in charge of photography selection as well.
Additional Art Direction with Brad Sherman and motion support from Ryan Griffin.
Below are the concepts in place for the timeline piece.
These are presentation boards I created to help explain the execution and concept for the client.

TABLEAU DATA NIGHT OUT EVENT
Fremont Street Experience, Las Vegas NV.
Video Wall Installation & Playlist
Not often do I get to assemble work for a data visualization company, but that is what this was. The group from Tableau wanted a themes as categories for their "Data Night Out" party they hosted in Las Vegas. Specifically, they wanted visuals from their current brand guidelines to appear abstractly on three lengths of a football field above the heads of all the people below on Fremont Street.
This content had live updates, band and event announcements, and even digital fireworks that would go off at the end of the event!
Coverage video by Pixelfire.

NANOLUMENS GLOBAL SHOP EXHIBIT
Video Wall Content, RFID Shelf Interaction
This was a cool event for a shelving exhibit called "Raise the Speed Limit". I know, I didn't know they had these things either. Well, this installation was not only a visual marvel with an archway that simulated a jump to a light-speed feel as you walked through it, but it was also interactive. I noticed they wanted these products displayed on the LED shelves so I thought, why not trigger specific content to play that was relevant to the product experience? We used RFID technology to pull that off.
The visuals were co-created by myself and my partner Ryan Griffin. I worked with the team at NanoLumens to create this content and they had a ton of fun making social media bits with the portal.
ANN SACKS SHOWROOMS
Video Wall Content, Custom Collection Video Shoot
Ann Sacks has some seriously expensive tiles. Like ridiculous. There was a collection created by a famous tile creator named Andy Fleishman who fabricated ones that looked like LEGO and beach items. 
I was tapped to concept several layouts and video shoot these as flat-lay sets on a local beach. The content was for the marketing on Ann Sacks in-store video walls in several locations. Let me tell you carrying a bunch of expensive tile samples around on a rocky beach was not the best idea–very heavy and fragile. No tiles were hurt in the making of the videos.
RITE AID GRAND OPENING
Video Wall Installation Content, Live-Action Ambient Video Playlist
Rite Aid had a grand opening store with a new video wall that they wanted to showcase passive panoramic videos on with content from local beaches, yoga instruction, serene beauty, and so on. 
Having said that, the beach and yoga work that was shot was left on drives that were stolen after the crew returned from LA. Only a handful of shots were spaired onto the backup. So I was hired to concept a playlist with northwest waterfalls, water garden escapes, and wooded scenery to fill in what was lost.
We hired a director and his assistant, who owned the only RED Dragon large enough to shoot this wide. Unfortunately, we needed two cameras and he only had one. So we had to rent the only other RED available locally. We had an idea to use two cameras side-by-side from my previous experience with this type of work at another company.
The locations I scouted to shoot took a few days while they needed to make a custom mount to get 2 RED cameras side-by-side on a slider.
Long story short, they got more footage and I color-corrected and edited the post work and also accompanied the content with sound design and some still photography. Some branding was added as interstitials to call out the categories that coincided with the in-store way-finding.
MOXY HOTELS
Video Wall Installation for Marketing Channels / Strategy
This project was cool. I don't have many visuals but basically, I was to come up with a way to market and strategize content channels on a video wall across the Moxy Hotels. I even offered some ways to make the video wall layouts unique by assembling them into the shape of MOXY.
AEROPOSTALE WINTER
NYTSQ Video Wall Content
Aeropostale had a really great collection of Winter clothing they shot on-location in the snow-packed glaciers somewhere in the world. My thought was to "unthaw" the hot collection with some motion graphics that melted the ice to reveal the models they chose wearing the collection. This never really played as intended for the NYTSQ spectacular, but the concept was cool. Or... hot.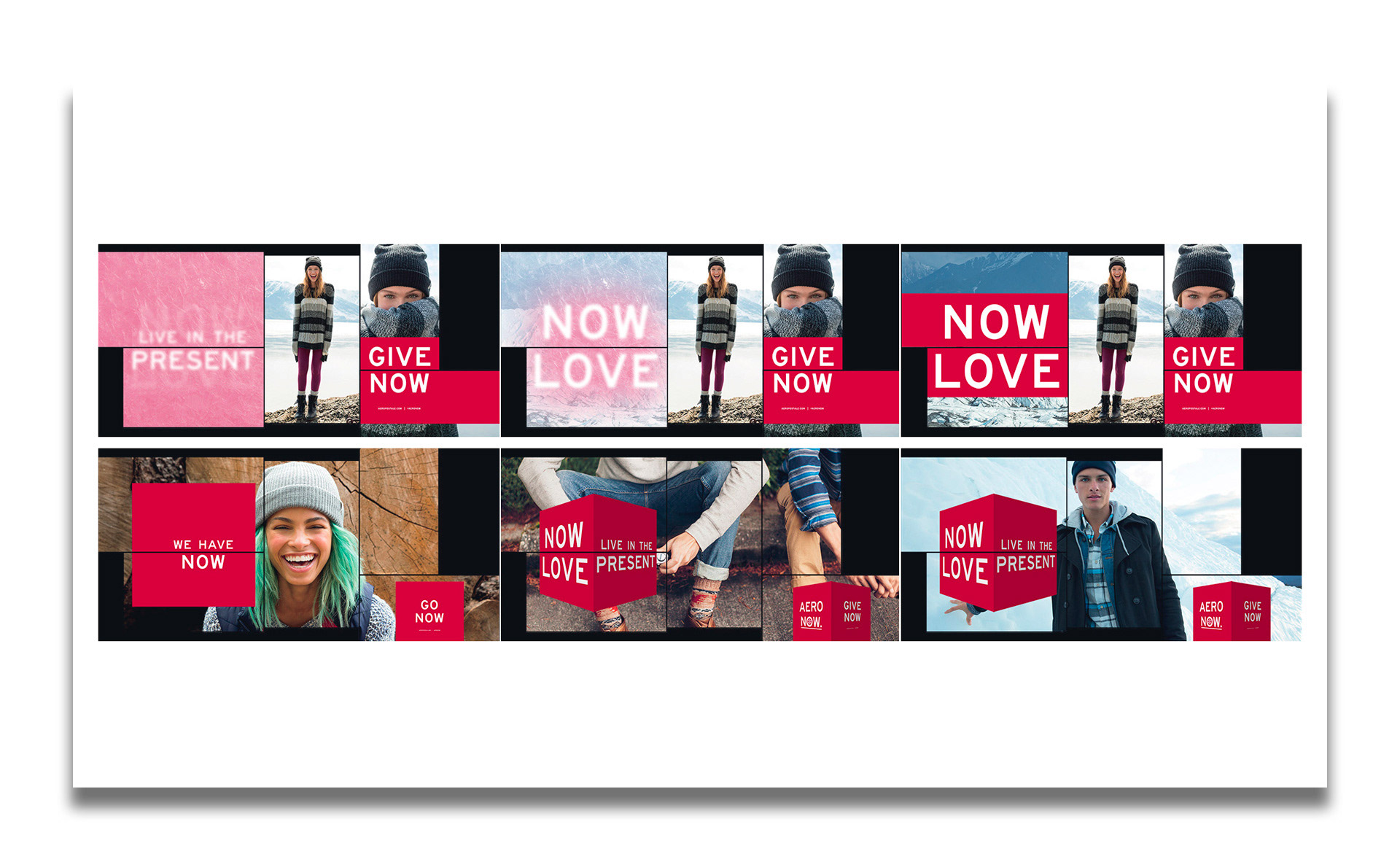 PUMA IGNITE (W/USAIN BOLT) NYTSQ TAKEOVER
NYTSQ, Signage Campaign
This looks more spectacular than it was. But I mean, c'mon, Usain Bolt? Puma? I was only in charge of making the static visuals and resizing them for a complete New York Times takeover but I did get to work with a cool crew that needed me around for live updates as the event unfolded.
BLOOMBERG 3D CUBE INSTALLATION
OOH Multi-Screen Content, Forum Event
Pixelfire asked me to design and animate content for an actual 3D installation using existing marketing material for each side of a cube face. This was to play outside a forum they were having about Big Data. I also had just one evening to make this content and also some other ideas. I pulled it off and Pixelfire continued to tap me for more work for years to come.
HEINEKEN NEW YEARS (W/BUFFALO WILD WINGS)
Video Wall Installation and Content
Steve came to me with this crazy notion that Buffalo Wild Wings and Heineken would want to celebrate New Year's together. Fun thought. I scratched my head and thought why not make something that would extend the media buy? So I made key city skylines out of Heineken cans with video of pours. Couple that with hosting a Count-Down New Year's Eve party on a cylindrical LED video installation in Buffalo Wild Wings, well... there ya go.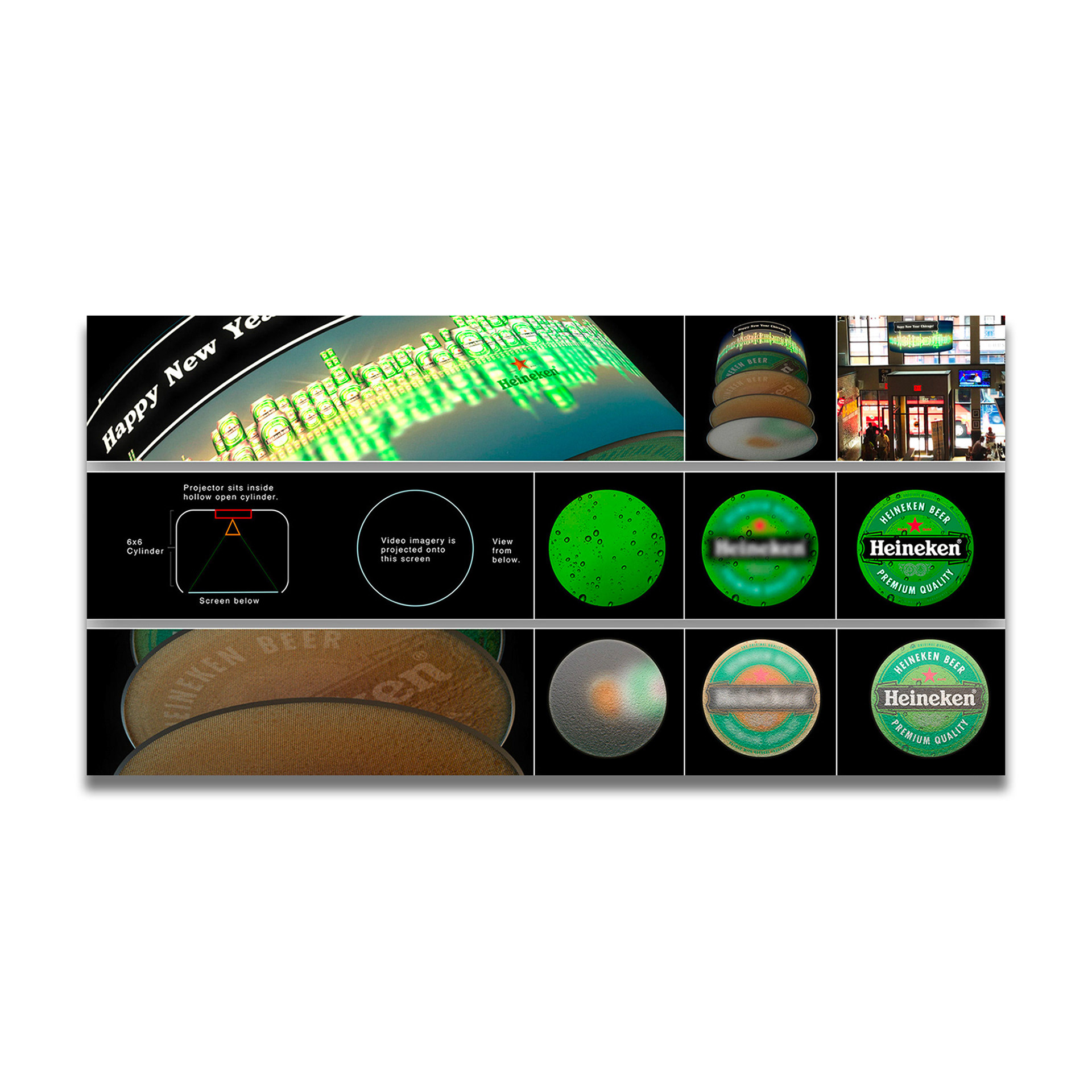 JVC EDITORIAL NYTSQ VIDEO CAMPAIGN
Video and Photography - Live-Action, Multiple Product SKUs.
This campaign was moving in a lot of different areas and the coverage video is unavailable but appeared on LED screens in New York Times Square and also on the web as part of the media buy. I have directed many editorial videos in the past, for this I was in charge of working with design, wardrobe, makeup, styling, narratives, and directing the shoots directly with the client.
I was hired by Pixelfire to direct talent, help with casting, and lead production and crew for a series of 4 videos in just under a few months with several concepts canceled due to budget and shoot location availability. In other words, these were fairly extensive projects with fairly limited budgets and very little experienced talent.
I offered about 10 different concepts including several with urban-connected stories and product placements. Due to time constraints after approval, the client pulled them back and we lost our original casting choices and were forced to go another direction on the concepts. Affecting the budget, I then had to juggle a one-man army show as co-producer, writer, director, editor, compositor, and photography retoucher/art director with the Pixelfire crew of about three other individuals and externally sourced crew for video and photography shooters.


XX over-the-ear headphones for video still, OOH, product, and lifestyle photography.

Fitness waterproof earbuds for video still, OOH, and lifestyle-product photography.

Gumy earbuds for video still, OOH, and lifestyle-product photography.

Additional product only concepts for print and video.

THE MICROSOFT STORE VIDEO WALL
Multi-Screen LED Retail & Services Video Wall Themes
This work for me spanned three years of life on the Microsoft video wall.
As each new store opened (approximately one a month), the work grew from ambient passive content to retail-focused content with live-action that was explored as way-finding and brand efforts and also interactivity. The content consisted of product reveals, advertising windows, services, holidays, and game launch events. I collaborated with a small core team and we specialized in creating panoramic wide environments combined with advertising to extend creative as in-store marketing.
As we grew and expanded our core staff, I stepped in to lead and direct full-concept designs for the next few years which meant more brain work combined with workhorse crafting. In this role, I was in charge of client interaction and presentation, onboarding designers, and funneling new content for video shoots, editorial photography, feasibility, and internal Microsoft clients and partners.
It's difficult to show these themes in their grandeur without scale and animation in front of your face but the final dimensions of each theme were unique on two sides of the store facing each other. Each set of 15 or so screens was approximately 28,800 x 1080px (15 x HD) and each store had many different layout configurations so each design needed to scale and fit accordingly. These panoramic themes were also in motion and ran a minimum of 1-2 minutes long and rendering these took incredible timing as delivery and distribution were very data-heavy (Terabytes). 
The content below shows mostly sections of the video wall where key content is played. Full themes are shown in static presentation boards below the video along with some storyboards and style frames.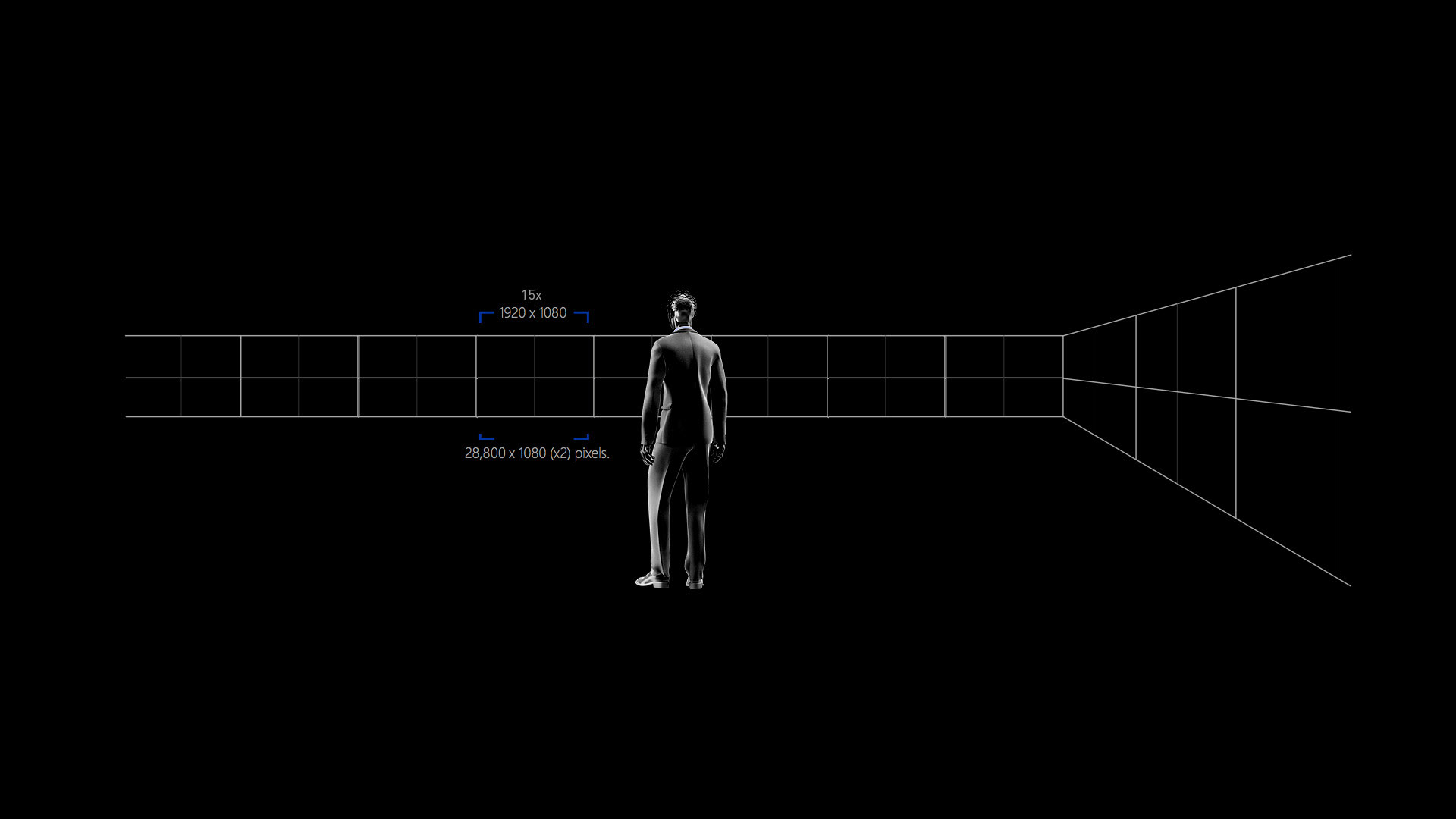 I won't show this process for every theme​​​​​​​
For the St Patrick's Theme: This entire panorama was created by me from a blank slate and I had to invent the process of how it all came together. All elements (animated and static) were placed to build the scene strategically as a giant collage. The flora was shot separately and extracted from photos I took. Some of the clovers looked a little too cut out so I painted little hairs and softened the edges on them to add to the realism. The panorama couldn't move left or right so the scenic depth of field was achieved by using 2D plates that were exported as layers into After Effects and turning them into 3D layers so a scene camera could be used. 3D bugs were modeled in Maya and a track matte was used to mask out the elements so the bugs could seemingly move behind solid objects like the letters and under rocks for example.
For the most part, what is shown below (in every theme to the end of the page) are partial-sized portions, and in some cases, full-scale compositions of the themes I created. These images are all from final video stills or as pre-production concepts, post-technical-feasibility approval, and ready-for-motion production stages.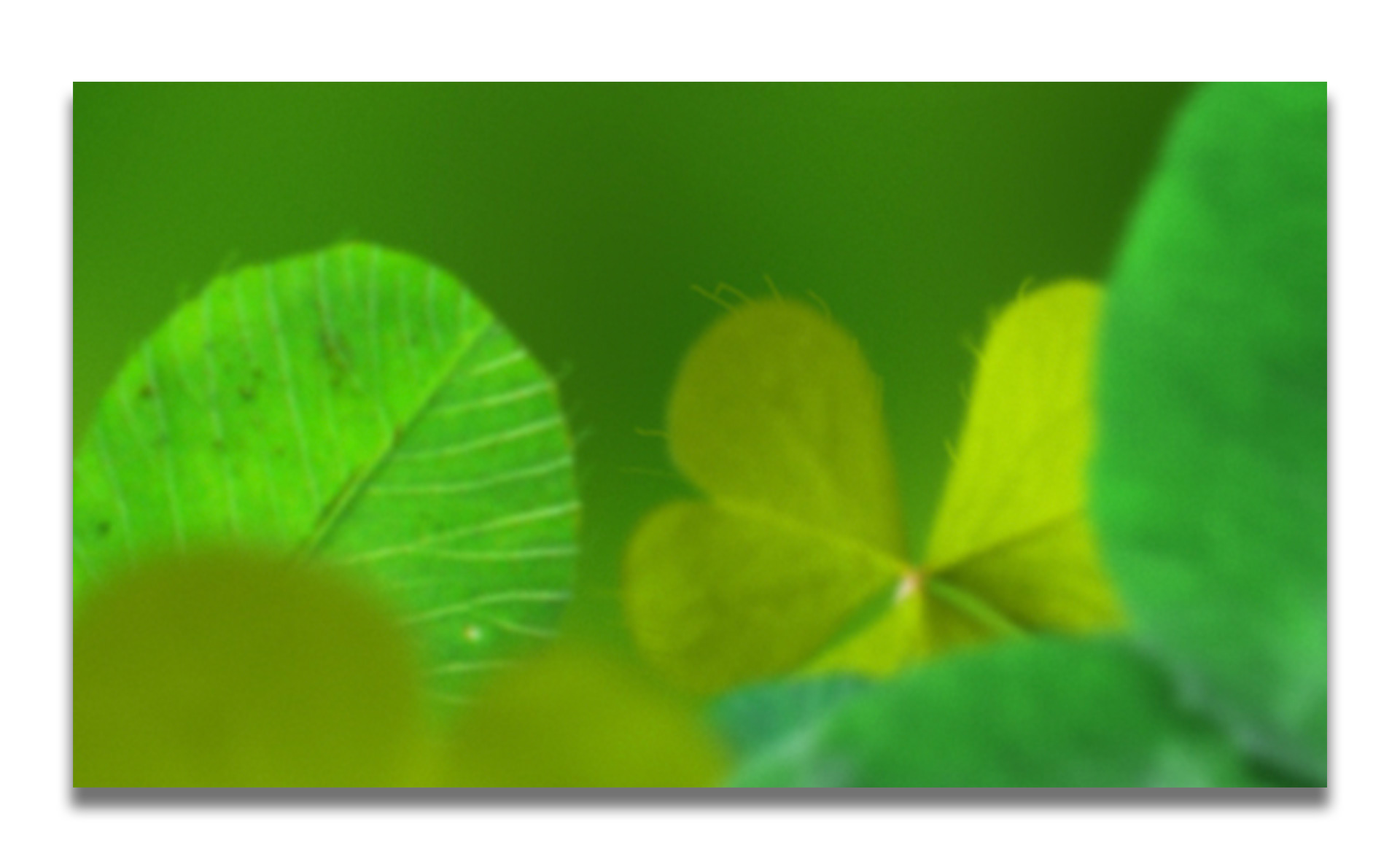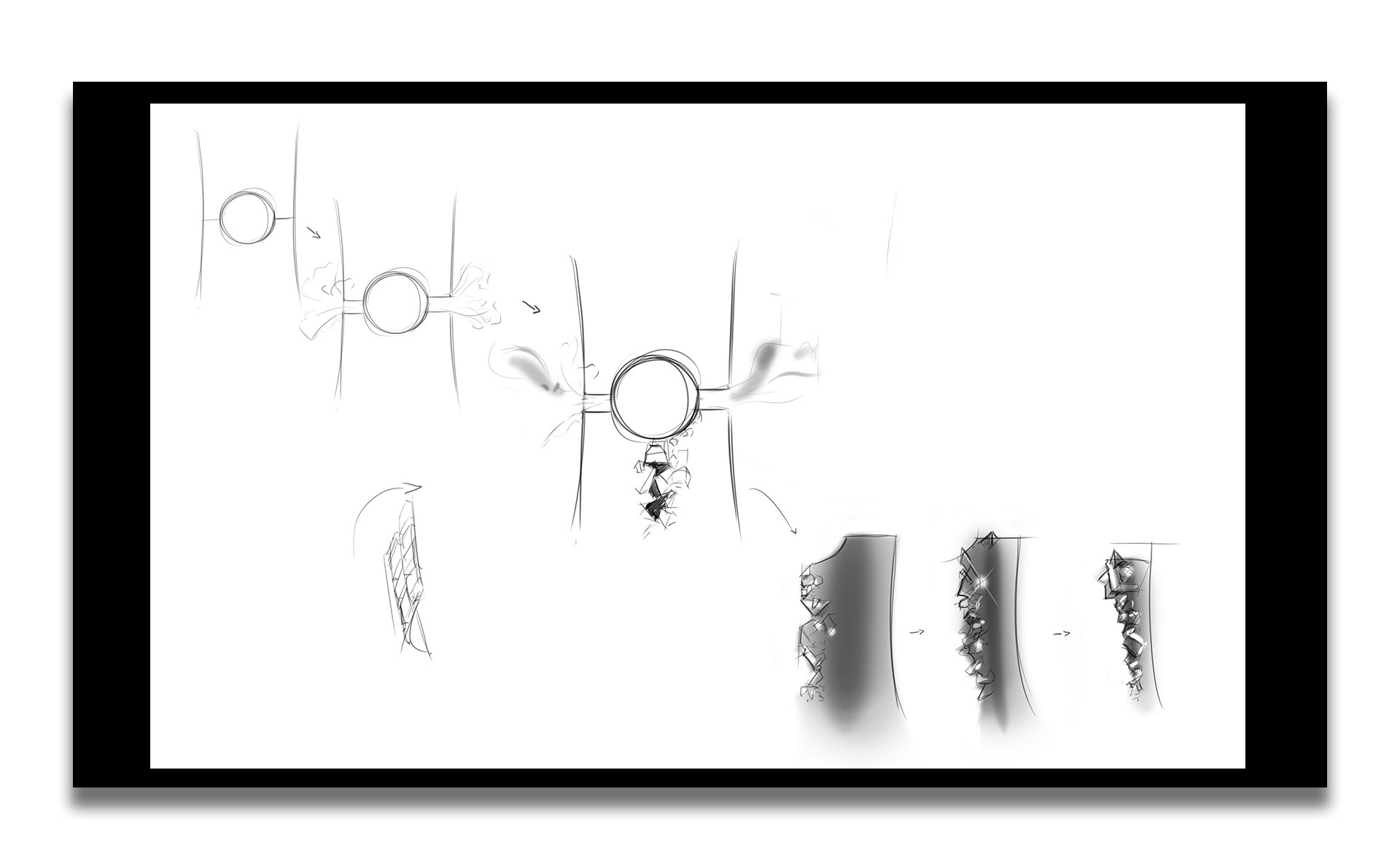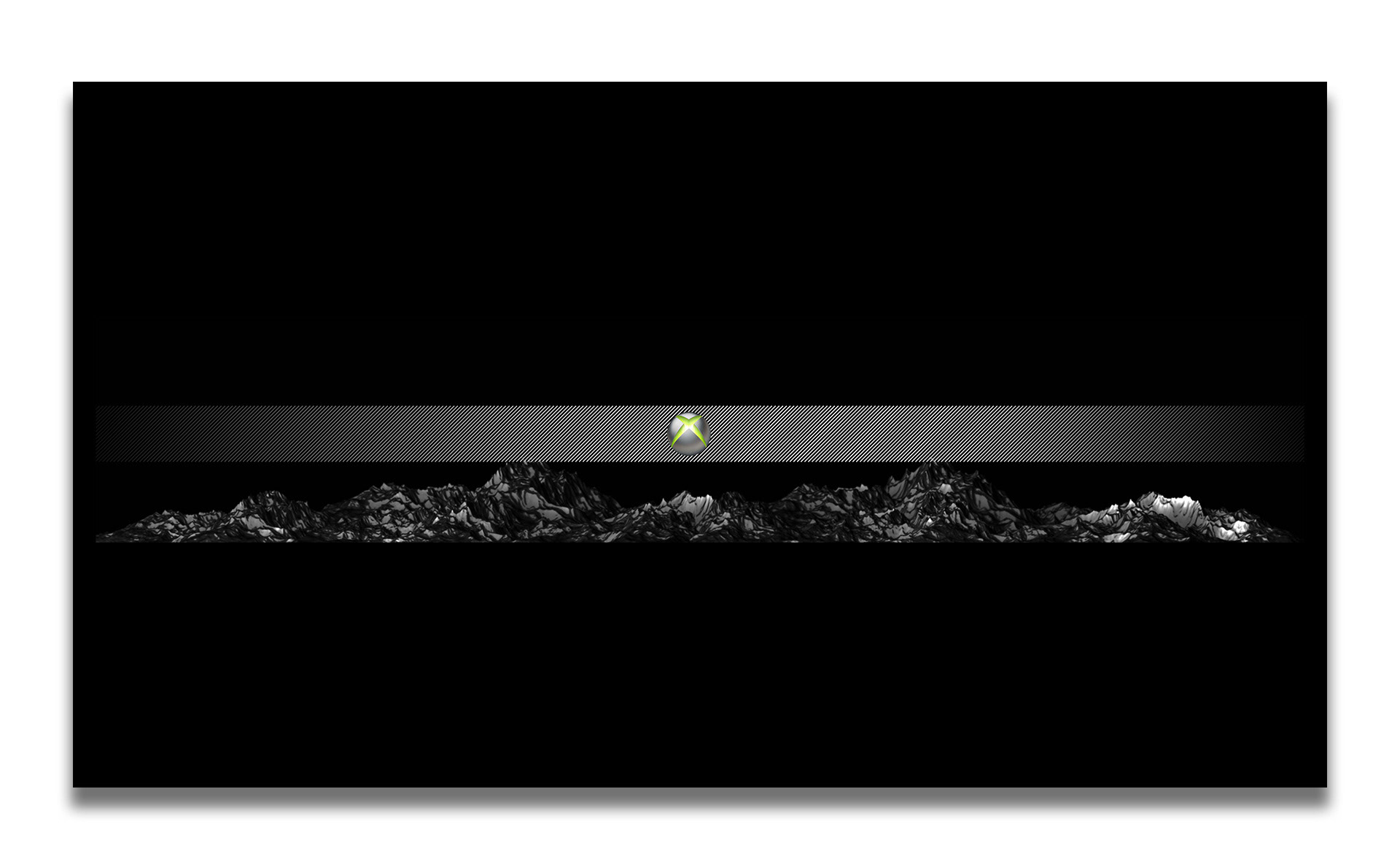 For this MLB content, I made a custom stadium from a mashup of two stadiums to keep it unique. I removed jarring fans, painted new scaffolding, and added digital LED signs in the outfield stands with product branding that stayed relevant to Xbox. Surreal finely textured large baseballs on the left and right rotated while the Xbox stripes animated in place and opened to reveal new scenes.

SAMSUNG VIBRANT GALAXY S
Entertainment Never Looked Better
Video Wall Content, Kiosk UXUI
This work was created for the Samsung Vibrant and partnered with many of T-Mobiles app providers. I was in charge of leading the campaign and coming up with the motion boards, copy, and basically the overall idea.
My take on it was to go into the life of the apps from the phone UI and reveal what they can do for the customer. The vibrant new 4" Super AMOLED screen was the feature new rage that sparked this campaign. The work extended to kiosk centers as an attract loop.
I also created the UXUI from wires given by GLG (Garrigan Lyman Group). All animation was created at Straitface.